Hacienda Vista Hermosa, a paradise to rest in Morelos, Mexico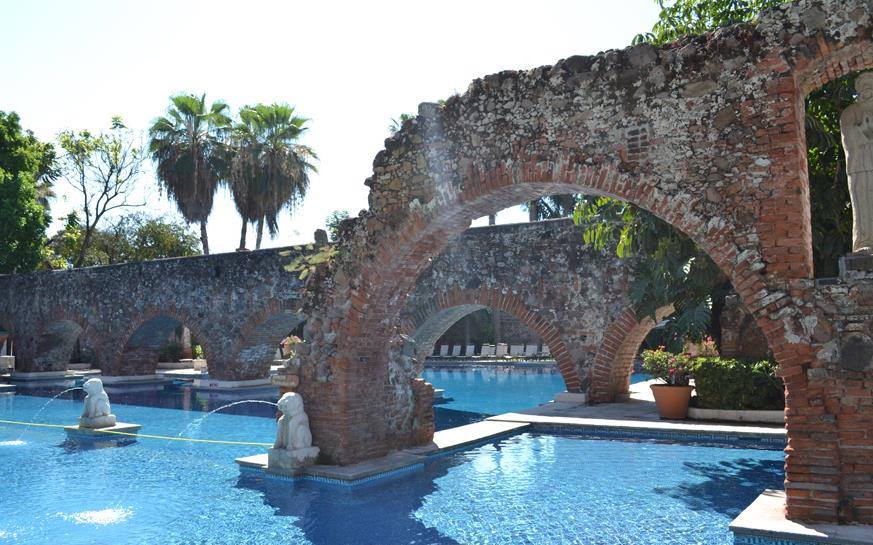 Escape to the paradise of Hacienda Vista Hermosa in Morelos, Mexico. Relax in a breathtaking setting surrounded by lush gardens, tranquil pools, and world-class service.
Hacienda Vista Hermosa, a paradise to rest in Morelos, Mexico

Hacienda Vista Hermosa is located in the municipality of Puente de Ixtla, in the state of Morelos, it is the perfect place to rest and enjoy an unforgettable stay.

It was founded in 1523 by Hernán Cortés, conqueror of Mexico, Lord and Captain of New Spain and the South Seas, it was given to him as a prize for his conquests, Carlos V, King of Spain and Emperor of Germany, honored Hernán Cortés with the title of Marquis of the Valley of Oaxaca; granting it lordship and rights over 23,000 vassals, villas and a vast expanse of land and this place was the center of life, culture and activity in the region. Its construction is made of stone and is surrounded by large walls with a classic colonial style.
Lodging at Hacienda Vista Hermosa

Hacienda Vista Hermosa has 76 standard rooms where you can enjoy peace and comfort, as well as excellent attention and service, the rooms are colonial style, with antique furniture and high ceilings that provide comfort, rest and relaxation.
Standard room

It has 76 standard rooms, from single to quadruple.



junior-suite

It has 9 Junior Suites which have a king size bed, 12 with two double beds and 1 more with a king size bed.



Villa San Joaquin

A unique villa of its kind, with great privacy since it is made up of 3 rooms with their own bathroom and private pool.


Suite room

It offers you 2 Suites with 1 King size bed and 1 suite with 2 King size beds, with an architectural style, luxurious and spacious, so you can rest at ease.


Presidential Suite

Sober, elegant, the Presidential Suite has two rooms, each with a king size bed, located on two levels. It includes a whirlpool tub, Jacuzzi, dining room, canteen, private garden, terrace on the second level, planters, sauna, steam room, air conditioning, television, wireless internet, and access to the chapel's balcony.


Social events

Always thinking of the best for you, the Ex Hacienda Vista Hermosa has the perfect space and the ideal postcard to carry out your social events, from a meeting, to the most important day of your life such as a wedding and always supported by the staff. to advise you on what you need in order to make that event unforgettable for you and your guests.


Arches Restaurant

And you could not miss the excellent service of the Restaurant that is located in the main centers of the Hacienda, which is open 365 days a year and invites you to taste delicious Mexican and international food in addition to the traditional barbecue buffet.

Services and Activities offered by the Ex Hacienda Vista Hermosa

Lodging
Restaurant
pools
courts
Charro Canvas Print
Didactic Farm
Air Activities
Water activities
Night activities
Land Activities
Parking lot


Location of the former Hacienda Vista Hermosa

Km. 7 Carretera Alpuyeca Tequesquitengo, San José Vista Hermosa CP. 62680, Ixtla Morelos Bridge