Best Luxury Destinations for Vacations Travel in Brazil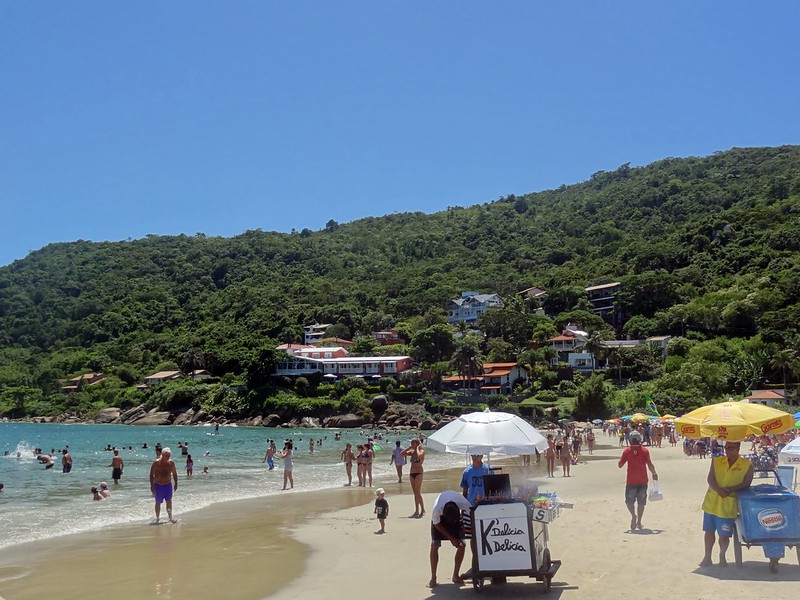 Indulge in luxury and adventure in Brazil's top destinations. From the sandy beaches of Rio de Janeiro to the lush rainforests of the Amazon, experience the best that Brazil has to offer. Relax in luxury accommodations, savor delicious cuisine, and immerse yourself in the vibrant culture of this beautiful country.
Best Luxury Destinations for Vacations Travel in Brazil

Brazil's cultural diversity has been extensive since the country's colonization, with influences from Africa and Europe blending with the local culture. As a continental country, the Brazilian culture is expressed in a unique way across regions.

The cultural tourism attracts international tourists who travel to discover the wide range of tourism offerings unique to the South American country. From influence of the colonial past to the beautiful landscapes and cheerful people, Brazil welcomes tourists from all over the world for a fantastic experience.
Here are Best Luxury Destinations for Vacations Travel in Brazil


Florianopolis - islands nightlife
Adventurous travelers looking to experience the island vibe along with the Brazilian nightlife should consider Florianópolis one of Brazil's most beautiful islands. Wherever heads turn, the visitors will either find beautiful beaches, parties, or night/afternoon clubs. Jurere International - the beachside neighborhood of Florianópolis - promises the best Brazilian beachside day parties.
But there is more. South of the island is the Praia do Campeche and Armação. Here, boats depart for Ilha do Campeche, an island of archaeological interest (thanks to its many petroglyphs and paintings) with Caribbean-like seas. Alternatively, avid surfers can head to Praia do Matadeiro, another popular southern spot.

Fernando de Noronha - Pure Brazil

Visitors wonder what heaven on earth might look like must-vis Fernando de Noronha, a UNESCO World Heritage Site with beautiful beaches and unique eco-tourism activities. A volcanic archipelago is ideal for families, couples, and friends who want to enjoy hiking, boat trips, snorkeling, surfing, and a layover.
Baía do Sancho is located in the heart of Fernando de Noronha - one of the world's most beautiful beaches with crystal clear waters teeming with marine wildlife. Those interested in seeing several species of fish, turtles, and baby sharks can also head to Praia do Suest or Praia do Porto. Projeto Tamar is headquartered in Fernando de Noronha and aims to protect and conserve the feeding and breeding area of ??rare sea turtle species. Tourists can embark on the guided tours and lectures and learn from biologists about the life cycle of sea turtles and how to protect them. The island is the breeding area for green turtles and feeding, growing, and resting place for juveniles of this species and the hawksbill turtle.

Minas Gerais - Historical and Colonial Art and Architecture
Minas Gerais is an excellent choice for those who enjoy a mixture of history, nature, and architecture.
The state has many gems in the countryside that are worth exploring slowly. Ouro Preto, the capital of Minas Gerais, is a colonial city in the Serra do Espinhaco, famous for its Baroque architecture and steep, winding cobbled streets.
Elsewhere, fans of architecture, nature, and culture can admire the historic Baroque-inspired buildings and secular churches of Diamantina. City that serves as the gateway to Periberry Falls State Park.
The World Cultural Heritage Site, Congonhas is another town where visitors can explore Bom Jesus de Matosinhos Sanctuary, an architectural and sculpture complex displaying Christian art and Expressionist works. Congonhas is also home to the Brazil's most significant artistic legacies - the works by Antonio Francisco Lisboa, known as "Aligadinho."

Estrada Real - Gastronomy and Culture
Technically, not a destination, but it is worth mentioning is Estrada Real, the most extensive 1,600-kilometer tourist route in Brazil. Estrada Real, recognized for its historical importance, consists of tourist routes offering gastronomical, cultural, religious, and adventurous experiences.
Travelers will be happy to find trails filled with cozy hotels in urban and rural areas. The locals are friendly enough to offer camping or accommodation facilities for those who need them.
Major routes include Old Road, New Road, Diamond Road, and Sapparapocho Road. Visitors are awarded a certificate of completion if they collect passport stamps along the entire Estrada Real route. To get the certificate, visitors need to have a minimum number of symbols, which varies according to the way they take it.

Carmel Charm Resort, Aquiraz

Carmel Charme Resort, a luxurious coastal jewel, blends modern design with a laid-back ambiance. Located in the peaceful fishing village of Aquiraz, guests will be greeted with stunning views of white sandy beaches and comfortable amenities. Offering an intimate setting, the resort features suites, lofts, and bungalows overlooking the sea, ideal for couples and families alike, with king-size beds, custom sandals, and an espresso machine. The property is a tropical oasis, with heated pools lined with lush gardens and pavilions perfect for lazy days. Lush spa treatments and the whirlpools are available for those who want to be pampered, while foodies will find the contemporary dishes served in the airy on-site restaurant inviting.
Wish Foz do Iguacu Resort, Foz do Iguacu
The idyllic family-friendly resort with easy access to the famous Brazilian Iguaçu Falls, the Wish Resort Foz do Iguacu is a spacious property that will keep the whole family entertained. With 555 acres of lush landscape, the resort features a long list of modern facilities to take advantage of. Choose from the range of dining options, from Italian favorites to Frontera Surf, which specializes in fine meats. Afterward, guests can relax in one of the apartments designed for comfort. From the world-renowned waterfalls just a 20-minute drive to the on-site swimming pool, tennis court, and 18-hole golf course, guests can choose how they spend their days. The resortalso has the largest kids club in the area, ensuring fun for all ages.

Recanto Alvorada Eco Resort, Protas
Recanto Alvorada Eco Resort is located near Saltos Park outside São Paulo, focusing on environmental philosophy and sustainable activities. To enhance an intimate experience, guests will find comfortable rooms ideal for couples and families alike, equipped with fireplaces, sofa beds, and minibars. Lined with the resort's multiple outdoor pools and a children's pool, these are perfect for relaxing, swimming, and soaking up the sun. Fresh food is served with locally sourced ingredients for a fine dining experience.

La Torre Resort, Porto Seguro
La Torre Resort is located in Coroa Vermelha near Muta Beach, an all-inclusive resort. Rooms range from standard rooms to family rooms and deluxe villas and feature down comforters and luxury toiletries for guests to enjoy. All guests are treated to all-inclusive perks and a range of onsite amenities perfect for an unforgettable tropical getaway, including outdoor pools, restaurants, and a prime beachfront location. Delicious Brazilian cuisine recharges guests with energy, while outdoor water sports are available for an adventurous day.