Staying at the Hotel Excelaris Plaza Grand Resorts Mexico, a great experience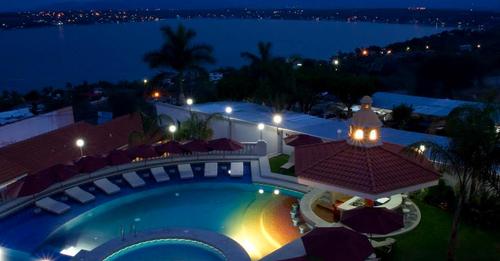 Enjoy an unforgettable stay, enjoying all the amenities and comfort that you need for your rest
Staying at the Hotel Excelaris Plaza Grand Resorts Mexico, a great experience
The Excelaris Plaza Grand Resorts Mexico Hotel is an excellent option to stay, it is very close to Lake Tequesquitengo, it is a space where you can enjoy tranquility, convenience, comfort and all the amenities you need. If your visit is for pleasure, it offers you from a Spa where you can let yourself be pampered until you cool off in the pool, in addition to being close to Lake Tequesquitengo you can enjoy the various water activities that the place offers you.
This charming place was built in 2002, being in 2007 when it was founded as a Hotel, and since then it has provided excellent service.

The Hotel Excelaris Plaza Grand Resorts Mexico has 51 5-star suites where you can spend an unforgettable stay, each of them is equipped with accessories and amenities accompanied by an exquisite decoration in addition to the beautiful view of the Lake.

If your visit is for business, at Hotel Excelaris Plaza Grand Resorts Mexico you will find everything you need for an excellent meeting, as you will find the Business Center, photocopy services and Wi Fi.
Services offered by the Excelaris Grand Resort Conventions and Spa
swimming pool
Gym
sauna and spa
Restaurant and bar
karaoke club
Yard
chapel
grocery store
bussiness center
Event rooms
Audiovisual equipment
copy machine service
Internet access
security box
Fire safety
security personnel
free parking
Valet parking
wake up call service
Housekeeping
laundry and ironing
Babysitting service Bilingual staff
Restaurant

The Excelaris Grand Resort Conventions and Spa also has a Restaurant, where you can enjoy its specialty in Tabla Argentina as well as typical dishes of the region.


Event room


Excelaris Grand Resort Conventions and Spa has everything you need to hold your big event and make it unforgettable for you and your guests.

It has the services of:

Two meeting rooms with capacity from 4 to 60 people, available in the set-up that suits your needs
Audiovisual equipment: giant screen, sound equipment, wireless microphones, flip charts
Dinners, lunches, banquets, coffee breaks or specialties to accompany the event


Spa

Let yourself be pampered in the Spa, Sauna in addition to receiving a massage that will de-stress and relax you.

Karaoke Night Club

Relax and have fun at the Karaoke Night Club, and spend an unforgettable evening.

Lodging Service at Excelaris Grand Resort Conventions and Spa.

The Excelaris Plaza Hotel has 51 Junior Suites ideal for 2 adults, 2 children and 2 extras (with additional charge), and the appropriate ones offer you:

2 double beds
1 sofa bed
air conditioning and fan
TV
phone
Clock radio
Internet access
hairdryer
Wardrobe
dresser
sofa bed
Full bathroom with shower and amenities
Balconies with lake views (some)
safe
room service
laundry service
wake up call

Location of the Excelaris Grand Resort Conventions and Spa
Boulevard. Tequesquitengo S/N In front of Glorieta Las Alas, San José Vista Hermosa, Tequesquitengo, Morelos, Mexico. For reservations and costs at Excelaris Grand Resort Conventions and Spa.*Consult promotions and packages.