The most important cities in Australia for investing in Luxury Real Estate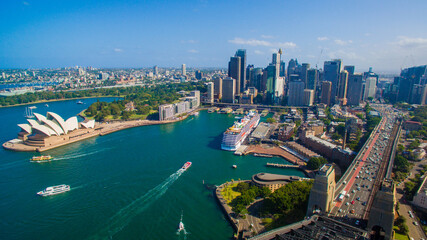 Discover which are the most important cities in Australia to invest in Luxury Real Estate, spectacular places, with all the comforts and services that you deserve.
The most important cities in Australia for investing in Luxury Real Estate
Investing in real estate in Australia can be a highly attractive option for both domestic and international investors. With its stable economy, robust property market, and diverse range of opportunities, Australia offers a promising landscape for those seeking to grow their wealth through property investments.
One of the key factors that makes Australia an ideal destination for real estate investment is its strong economic fundamentals. The country has a resilient and thriving economy, supported by various industries such as mining, tourism, education, and agriculture. This economic stability translates into steady demand for properties, making it an excellent market for investors looking for long-term returns.
Australia's property market has also shown remarkable resilience, even during times of global economic uncertainty. While there may be occasional fluctuations, the overall trend has been one of steady growth, especially in major cities like Sydney, Melbourne, and Brisbane. These cities have experienced significant population growth and rising demand for housing, creating a favorable environment for real estate investors.
Moreover, Australia has a well-developed legal system and a robust regulatory framework, which provides investors with a sense of security and protection. Property rights are strongly upheld, and the buying and selling processes are transparent and straightforward. This regulatory stability further encourages local and international investors to participate in the market with confidence.
In addition to its stable economy and property market, Australia offers a diverse range of investment opportunities. From luxurious waterfront properties with stunning ocean views to high-end apartments in cosmopolitan city centers, there is something to suit every investor's preference. Whether you seek to invest in residential, commercial, or industrial properties, Australia provides a wealth of choices.
For international investors, Australia's property market is highly accessible, with minimal restrictions on foreign ownership. This openness has attracted a significant influx of overseas buyers, adding to the market's dynamism and diversity. Moreover, the Australian government actively encourages foreign investment in real estate, providing a positive and welcoming environment for international investors.
Aside from the potential for capital appreciation, investing in Australian real estate can also offer attractive rental yields. The country's growing population, coupled with a high demand for rental properties, means that investors can enjoy consistent rental income and potential cash flow from their investments.
However, like any investment, it is crucial to conduct thorough research and seek professional advice before diving into the Australian property market. Understanding local market dynamics, rental demand, and potential risks is essential for making informed investment decisions. Engaging the services of reputable real estate agents and property management companies can also provide valuable insights and support throughout the investment process.
Cities in Australia where investing in luxury real estate could be advisable.
Below, we present you with some of the most enticing cities in Australia where investing in luxury real estate could be a lucrative venture. Australia's dynamic property market, coupled with its flourishing economy and picturesque landscapes, offers a plethora of opportunities for discerning investors seeking prime properties. Cities like Sydney, with its iconic harbor and world-class amenities, Melbourne, renowned for its arts and culture, and the cosmopolitan city of Brisbane, are all known for their luxury property markets. Additionally, the sunny shores of Gold Coast and the modern charm of Perth also offer appealing prospects for those interested in indulging in the opulence of luxury real estate in Australia. Explore these urban gems and seize the potential for a profitable and fulfilling investment journey.
Sydney, Australia - A Luminous and Vibrant City
Sydney, the jewel of Australia, is a dazzling city that seamlessly blends urban living with the natural beauty of its surroundings. Located on Australia's east coast, this iconic metropolis is renowned for its picturesque harbor, home to the majestic Sydney Opera House and the Sydney Harbour Bridge ? internationally recognized symbols. Beyond its impressive architecture, Sydney offers an array of cultural and culinary experiences, boasting a lively arts and music scene alongside a diverse array of dining options to satisfy even the most discerning palates.
Yet, Sydney is not only a city of breathtaking views and vibrant activities; it also presents an enticing investment destination for luxury real estate enthusiasts. With a robust economy and a steady demand for exclusive properties, this cosmopolitan city has emerged as a compelling real estate market for both domestic and international investors.
Compelling Reasons to Invest in Luxury Real Estate in Sydney
1. Profitability and Economic Stability: Sydney has shown consistent growth in its real estate market, offering excellent returns for those seeking to invest in luxury properties. Furthermore, Australia's economic stability, supported by a thriving industry and a skilled workforce, instills confidence in investors.


2. Exclusive Waterfront Properties: Sydney boasts an unparalleled selection of waterfront properties, ranging from luxurious coastal estates to stunning penthouses with sweeping ocean vistas. The demand for such properties remains high, making them an attractive option for those seeking their dream residence.


3. Sophisticated Lifestyle: Sydney offers the best of both worlds ? a modern urban environment with immediate access to stunning natural landscapes. First-class restaurants, luxury boutiques, and world-class cultural activities provide a sophisticated lifestyle, appealing to those in search of elegance and comfort.


4. Strong Demand for Inner-City Properties: The convenience and amenities of city living attract buyers and renters alike. Investors can capitalize on this demand by acquiring properties in prime locations such as The Rocks, Darlinghurst, and Barangaroo, among others.


5. Safe Environment and Political Stability: Australia is renowned for being a safe and stable country, providing a secure environment for investment and peace of mind for investors.


With its cosmopolitan ambiance, vibrant cultural scene, and stunning natural beauty, Sydney shines as an ideal destination for luxury real estate investment. Whether you seek a luxurious waterfront retreat or a sophisticated urban abode, Sydney offers a plethora of opportunities for discerning investors seeking to make their mark in Australia's flourishing real estate market. Embrace the allure of Sydney and embark on a journey of luxury and prosperity in this captivating city Down Under.



***Brisbane, Australia - A City of Endless Sunshine and Laid-Back Charm

Nestled along the banks of the iconic Brisbane River, this sunny Queensland gem, Brisbane, radiates a welcoming and laid-back charm that captivates all who visit. As Australia's third-largest city, Brisbane effortlessly blends modernity with a relaxed atmosphere, making it a captivating destination for residents and travelers alike. Its subtropical climate, boasting nearly 300 days of sunshine per year, sets the stage for a vibrant outdoor lifestyle, with countless opportunities for picnics in scenic parks, riverside strolls, and beach getaways just a short drive away.

Brisbane's thriving cultural scene and diverse culinary offerings add to its allure, showcasing a unique blend of art, music, and flavors from around the globe. The South Bank Parklands, with its lush gardens and sandy lagoon, epitomizes the city's commitment to a leisurely lifestyle where locals and tourists can unwind and revel in the beauty of this sun-drenched paradise.


Compelling Reasons to Invest in Luxury Real Estate in Brisbane
1. Booming Economy and Infrastructure: Brisbane's robust economy is rapidly expanding, driving demand for luxury properties in the city. The development of cutting-edge infrastructure, such as the Queen's Wharf precinct and the Howard Smith Wharves, further enhances the city's appeal as a premier investment destination.


2. Exclusive Riverfront Properties: Embrace the idyllic lifestyle with an exquisite riverfront property along the Brisbane River. These opulent residences provide unobstructed views of the water and the city's skyline, creating an unparalleled living experience.


3. Growing Demand for Inner-City Living: The city center of Brisbane is evolving into a cosmopolitan hub, attracting young professionals and families alike. The high demand for luxurious inner-city residences makes them a lucrative investment opportunity.


4. Cultural and Culinary Paradise: With an array of top-tier dining establishments, cultural precincts, and world-class events, Brisbane offers an immersive cultural experience that is second to none. The city's evolving arts and entertainment scene continues to attract luxury real estate seekers who appreciate a lifestyle enriched with culture and refinement.


5. Outdoor and Recreational Paradise: Embrace the city's love for outdoor living with a plethora of parks, recreational areas, and nearby natural wonders like Moreton Bay and the Gold Coast. Brisbane's close proximity to renowned tourist destinations ensures residents have endless opportunities for leisure and relaxation.


Discover the magic of Brisbane, where a delightful mix of sunshine, leisure, and cultural vibrancy awaits. As a hotbed for growth and development, Brisbane presents an unparalleled investment opportunity in the luxury real estate sector. Whether you seek a tranquil riverside retreat or a sophisticated inner-city penthouse, Brisbane's charm and potential make it a top choice for those seeking to invest in Australia's thriving property market. Embrace the sunshine and bask in the warmth of this captivating city Down Under.



Perth, Australia - Where Urban Sophistication Meets Natural Beauty

Perched on the picturesque western coast of Australia, Perth enchants visitors and locals alike with its striking blend of urban elegance and natural beauty. As the sunniest capital city in the country, Perth boasts a laid-back atmosphere and a warm climate that entices people to explore its outdoor wonders. The Swan River gracefully winds its way through the city, adding a touch of serenity to the vibrant urban landscape. With stunning beaches stretching along the coast, residents revel in the beauty of their surroundings, embracing a lifestyle that effortlessly balances work and leisure.

Perth's evolving cultural scene and thriving culinary offerings reflect the city's diversity, making it a melting pot of global influences. From bustling markets to sophisticated eateries, the gastronomic journey in Perth is as delightful as its scenic vistas. The city's burgeoning arts and entertainment precincts provide a plethora of enriching experiences, while the captivating street art scattered throughout adds a touch of color to the urban canvas.


Compelling Reasons to Invest in Luxury Real Estate in Perth
1. Stunning Waterfront Properties: The allure of Perth lies in its abundance of waterfront properties, allowing homeowners to savor breathtaking views of the Indian Ocean and the Swan River. Embrace a luxurious coastal lifestyle with direct access to pristine beaches and water activities.


2. Growing Economic Hub: Perth has established itself as a significant economic hub in Australia, attracting a wealth of job opportunities and investment prospects. The city's stable economy and promising growth prospects make it an appealing destination for luxury real estate investors.


3. Booming Tourism Industry: As tourism in Perth continues to thrive, the demand for high-end accommodation and luxury residences soars. Invest in luxury properties catering to discerning travelers seeking an unforgettable escape.


4. Expanding Infrastructure: Perth's infrastructure development is rapidly expanding, with major projects like Elizabeth Quay and the Perth City Link transforming the city's skyline. These initiatives enhance the appeal of luxury real estate in the heart of the metropolis.


5. World-Class Education and Healthcare: Perth boasts excellent educational institutions and world-class healthcare facilities, attracting families and individuals seeking an exceptional quality of life. The availability of prestigious schools and advanced medical services adds to the city's allure for luxury property buyers.


6. Vibrant Social Scene: From trendy rooftop bars to lively entertainment precincts, Perth offers a vibrant social scene for those seeking an enriching urban experience. The city's dynamic nightlife and cultural events add a touch of excitement to everyday life.


Discover the charm and allure of Perth, a city that effortlessly blends modern sophistication with the natural wonders of the Australian coastline. With a myriad of investment opportunities and an idyllic coastal lifestyle, Perth beckons luxury real estate seekers to indulge in its captivating offerings. From its picturesque waterfront properties to its flourishing cultural scene, Perth is a city that captivates hearts and inspires investments for those seeking a life of opulence and natural beauty.



Adelaide, Australia - Where Elegance Meets Vibrancy


Nestled on the southern coast of Australia, Adelaide charms visitors with its unique blend of elegance and vibrancy. This vibrant city captivates with its captivating mix of historic charm and modern allure, making it a delightful destination for residents and travelers alike. Known as the "City of Churches," Adelaide boasts a picturesque skyline adorned with elegant spires, adding to its timeless appeal.

The city's leafy boulevards, manicured parks, and tranquil gardens create a serene ambiance that permeates throughout. The Adelaide Park Lands encircle the city, providing a natural oasis of green spaces where locals can unwind and enjoy outdoor activities. Cultural treasures abound, with world-class museums, galleries, and theaters that cater to art and history enthusiasts. In the evenings, the city comes alive with a bustling social scene, offering a diverse array of restaurants, bars, and entertainment options to suit every taste.


Compelling Reasons to Invest in Luxury Real Estate in Adelaide
1. Exquisite Heritage Properties: Adelaide's rich history is reflected in its collection of heritage properties, showcasing architectural marvels from yesteryears. Investors have the opportunity to own elegant mansions and charming cottages, carefully restored to their former glory.


2. Growing Economic Hub: Adelaide's economy is on an upward trajectory, with thriving industries such as defense, health, and advanced manufacturing contributing to its growth. The city's potential for business development and job opportunities makes it an attractive destination for luxury real estate investment.


3. Emerging Luxury Property Market: Adelaide's luxury property market is steadily emerging, presenting a favorable environment for investors seeking high-end residential opportunities. Astute buyers can secure exclusive properties at relatively favorable prices compared to other Australian cities.


4. Strong Rental Demand: The city's diverse and growing population creates a strong demand for high-quality rental properties. Luxury apartments and townhouses attract discerning tenants seeking a refined living experience.


5. Dynamic Culture and Events: Adelaide's reputation as a cultural hub is well-deserved, with year-round events, festivals, and celebrations that draw in crowds from across the globe. Owning luxury real estate in the heart of the city allows residents to immerse themselves in the vibrant social scene.


6. World-Class Education and Healthcare: Adelaide is home to renowned educational institutions and top-notch healthcare facilities, attracting families and professionals seeking a superior quality of life. This demand contributes to the allure of luxury real estate in the city.


7. Relaxed Coastal Lifestyle: The city's proximity to stunning beaches and coastal escapes allows residents to enjoy a relaxed and enviable lifestyle. Owning a luxury property in Adelaide means having the best of both worlds - urban sophistication and coastal serenity.


Experience the enchantment of Adelaide, where old-world charm harmonizes with contemporary allure, creating an inviting atmosphere for luxury real estate investment. From its elegant heritage properties to its flourishing cultural scene, Adelaide offers a myriad of opportunities for those seeking a life of refinement and grace. Immerse yourself in the splendor of this vibrant city and discover why Adelaide is a captivating destination for luxury property seekers with an eye for sophistication and timeless elegance.